Telecom Innovation
For three decades, Melita Business has been delivering cutting-edge telecommunications services to businesses across Malta and beyond. Whether you need fast and reliable fibre internet connectivity, flexible and affordable phone plans, mobile devices and connectivity, TV entertainment and news, or secure and scalable data centre and cloud services, Melita Business has the right solution for you. In this article, we will share our story of how we grew from a small cable TV operator to Malta's leading telecommunications company.  
Early Years of Melita Business
Melita Business has a history of delivering high-quality entertainment and communication solutions to Maltese customers since 1992. Starting as a cable TV operator for households, we expanded our services to businesses in 2000, offering them a wide range of local and international channels.
We added fixed telephony services in 2009, allowing them to communicate over our dependable and secure network. We also tailored our call rates and packages to meet different business requirements.
In 2010, we invested in our own undersea fibre link to mainland Europe, connecting Malta to the global internet infrastructure. This improved our network performance and reliability and enabled us to provide faster and more consistent internet services to our customers.
How Melita Business Services Transformed the Maltese Market
We have been at the forefront of innovation and quality in the Maltese telecommunications sector since 2012, when we launched our Fibre Power broadband internet service. With speeds of up to 100 Mbps, this service revolutionised the online experience for businesses in Malta, enabling them to perform faster and smoother operations and communications.
We also introduced cutting-edge entertainment solutions in 2011, when we launched our HDTV and PVR services. These services allowed businesses to enjoy high-definition channels and the convenience of recording, pausing and rewinding live TV.
In 2012 and 2013, we started offering a rich selection of movies and series on demand with the introduction of Video OnDemand HD.
We reached another milestone in 2019 by introducing 1,000 Mbps gigabit internet nationwide. This was the highest internet speed ever offered in Malta, and it empowered businesses to benefit from ultra-fast connectivity and productivity.
Customer Service and Quality as the Fundamental Focus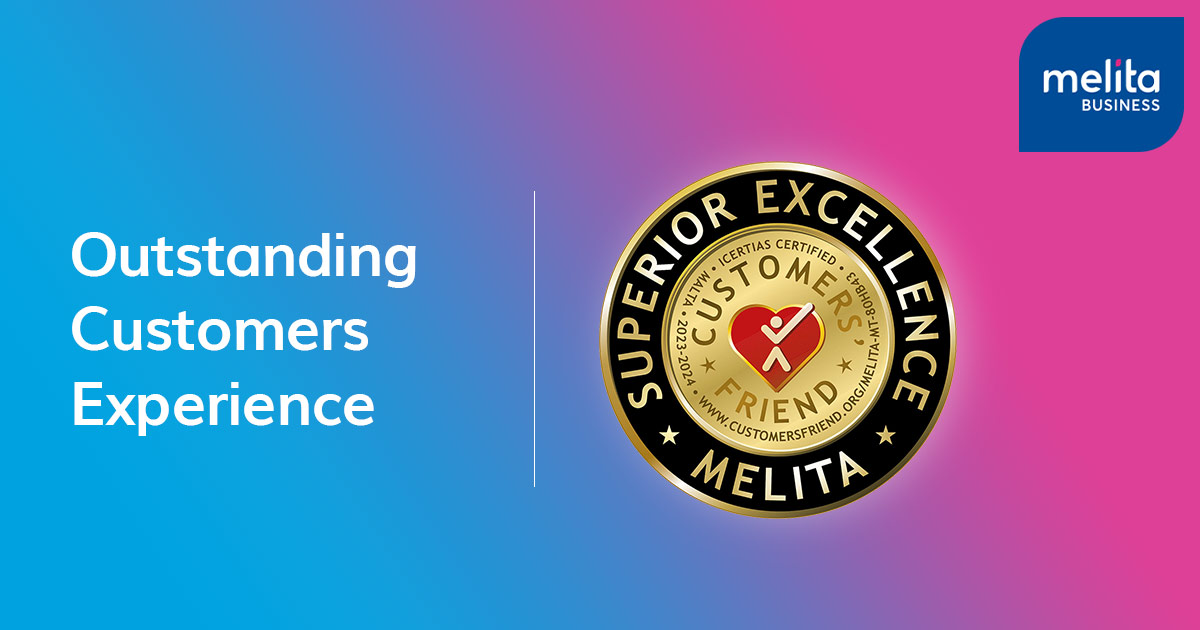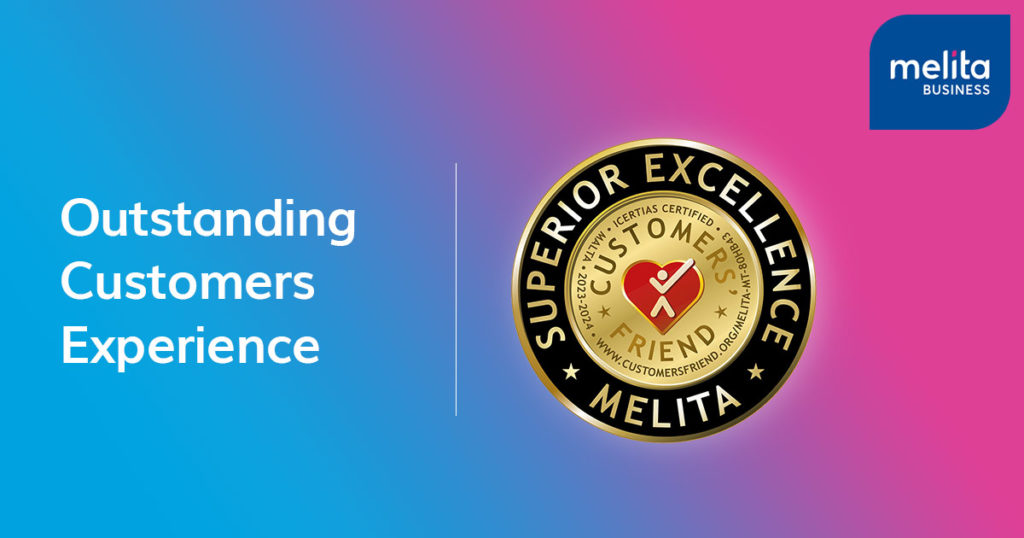 At Melita Business, we strive to exceed our customers' expectations and provide them with the highest quality of service and products. That's why we launched our Customer Service Promises in 2017, which outline the commitments we make to our customers regarding service delivery, support, and satisfaction.
We also want to empower our customers to stay connected wherever they are, without worrying about their mobile data usage. So, we rolled out MelitaWiFi across Malta and Gozo in 2016, giving our customers free access to over 75,000 WiFi hotspots across the islands.
In 2019, we achieved the ISO 27001 certification in Information Security Management Systems for Melita Data Centre. This is testament to our compliance with the highest standards of security and protection for our customers' data and systems.
Our Commitment to Sustainability and Environmental Responsibility
Melita Business is dedicated to sustainability and environmental responsibility. We have joined the Science Based Targets initiative (SBTi) in 2021, which sets emissions reduction targets that are consistent with the objectives of the Paris Agreement on climate change.
We are on track to become carbon neutral across our operations by the end of 2023. We will achieve this by cutting down our greenhouse gas emissions and compensating for any remaining emissions through verified projects that contribute to environmental preservation and social development.
We have also been awarded the ISO 14001 Environmental Management, ISO 50001 Energy Management and ISO 45001 Occupational Health and Safety certifications in 2022. These certifications solidify our adherence to international best practices in managing our environmental impacts, energy consumption, and occupational health and safety hazards.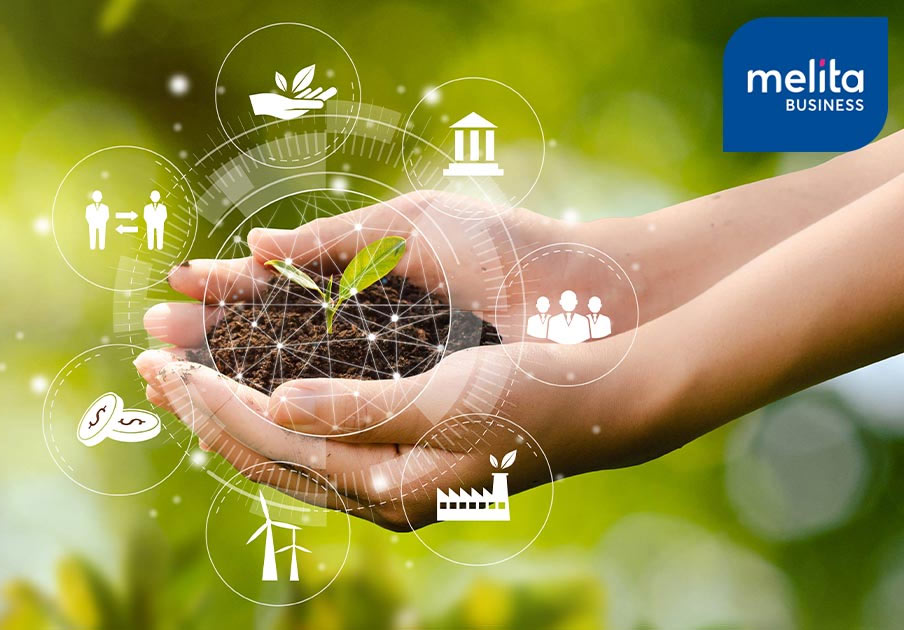 Expanding Our Business Through Strategic Partnerships and Acquisitions
Melita Business has grown steadily over the years by forming strategic alliances and acquiring companies that have enhanced our market position and diversified our service offerings.
One of our key acquisitions was Red Touch in 2018, a mobile virtual network operator that provides competitive and flexible mobile plans for businesses. This allowed us to offer more varied and flexible mobile services to our customers.
In 2020, we acquired Ozone, a leading provider of wireless internet solutions. With the acquisition of Ozone, we were able to offer more reliable and accessible internet services to our customers in areas where fibre or cable are not available.
Also in 2020, we launched Melita Italia in collaboration with Enel Energia, one of Italy's largest energy companies. This was our first venture into the Italian market as a provider of fibre broadband internet services for residential customers.
Leading the Way in Innovation and Technology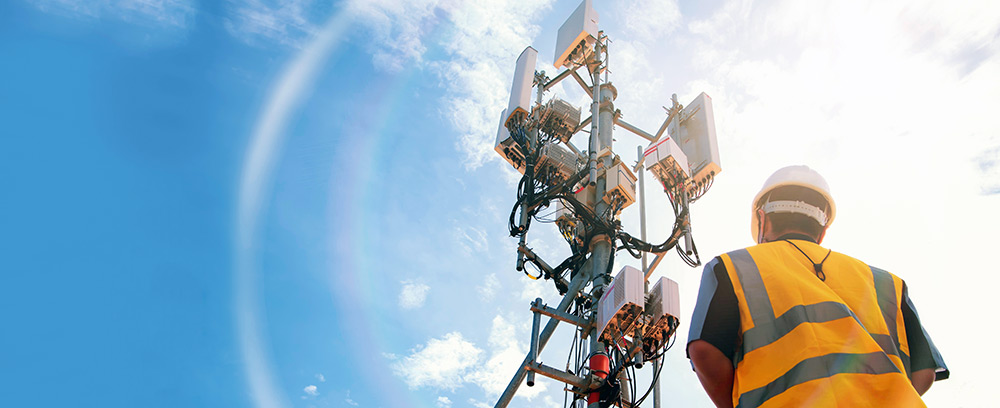 For over 30 years, we have been at the forefront of innovation and technological advancements in the telecommunications sector, offering customers cutting-edge solutions and high-quality service.
One of the major milestones for Melita Business was the launch of our 4.5G mobile network in 2019, which was the first of its kind in Malta and one of the first in Europe. The 4.5G network offers speeds up to 10 times faster than 4G and supports more devices per cell site. It also provides better coverage and quality of service, especially indoors and in crowded areas.
Another innovation that Melita Business introduced in 2019 was the narrow band IoT (NB-IoT) network, which is a low-power wide-area network (LPWAN) technology that enables devices and services to communicate over cellular networks. Melita Business was the first operator in Malta to deploy NB-IoT and has since partnered with various companies and organisations to provide IoT solutions for a wide range of sectors.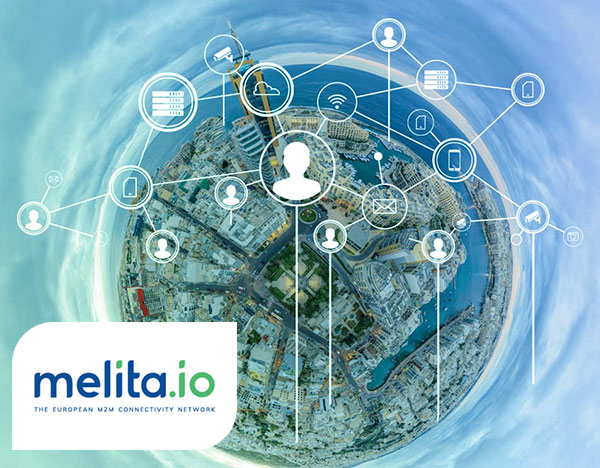 In 2020, we launched our Cloud Connect services in partnership with Telia Carrier, a leading global provider of network infrastructure and services. Cloud Connect allows customers to directly connect to major cloud platforms, such as Amazon Web Services (AWS), Microsoft Azure and Google Cloud Platform (GCP), via a dedicated and secure link.
The most recent achievement for Melita Business was the launch of its 5G mobile network in 2019, which marked a new era of connectivity for Malta. The 5G network offers speeds up to 100 times faster than 4G and supports massive amounts of data and devices. It also enables ultra-low latency and high reliability, which are essential for emerging technologies such as virtual reality, augmented reality, and artificial intelligence.
In 2020, melita.io, a subsidiary of Melita Business, started building a LoRaWAN network in Germany. LoRaWAN is a low-power wide-area network (LPWAN) technology that enables long-range wireless communication between sensors and devices. melita.io aims to provide IoT connectivity solutions for smart cities, smart buildings, smart agriculture, and smart industry. 
Aligning Actions with Corporate Social Responsibility and Community Involvement
Not only do we continuously invest in innovation and technology, but we also care about our social and environmental impact. Since our inception, Melita Business has been committed to promoting gender equality, supporting digital skills and creativity, and preserving the cultural heritage and environment of Malta.
One of the milestones of Melita Business's social responsibility journey was the awarding of the Equality Mark by The National Commission for the Promotion of Equality (NCPE) in 2011. The Equality Mark is a certification that recognises companies that make gender equality one of their values and whose management is based on the recognition and promotion of the potential of all employees irrespective of their gender and caring responsibilities. Melita Business was one of the first companies in Malta to receive this prestigious award, demonstrating its leadership and commitment to creating a fair and inclusive workplace.
Another milestone was the launch of the Melita Foundation in 2021 with €500,000 funding. The Melita Foundation is a non-profit organisation that promotes the development of the digital skills and creativity that Malta needs for future growth. It also supports the preservation of the cultural heritage and environment of Malta and has allocated over €50,000 to environmental projects in 2022.
Looking Ahead
Melita Business is committed to continue investing in innovation and technology advancements to meet the evolving needs of its customers and to drive the digital transformation of Malta. We have four main areas of focus for our future plans: IoT and internationalisation, environment, society, and our partner ecosystem.
IoT and Internationalisation
We have a competitive edge in our digital infrastructure, which we constantly improve by investing in fibre optic technology for our fixed network. Our 5G mobile and gigabit internet networks powered by fibre are essential for attracting foreign investment to Malta and creating new opportunities for service development. One such example is melita.io, which provides Narrowband Internet-of-Things (NB-IoT) and LoRaWAN networks. Melita.io has expanded its IoT connectivity service internationally, thanks to its wide range of roaming agreements, international partners, and experience. Melita's innovation and growth strategy for the future is focused on building on its strong IoT and fibre offerings. 
Environment
Melita is committed to reducing its carbon footprint and has signed up to the SBTi, a partnership that pursues efforts to limit global warming to 1.5°C. The company follows the goals of the Paris Climate Agreement and monitors its progress regularly.
Society
Melita supports the protection of Maltese heritage and environment and the development of digital and creative skills through its Melita Foundation. The foundation has funded dozens of diverse projects, ranging from local STEM initiatives to global maritime conservation efforts.
Partner Ecosystem
At Melita, we believe in building strong and lasting relationships with our customers. As the digital transformation of our economy accelerates, we are ready to support our customers with the best tools and services available.
One of the ways we do this is by creating a partner ecosystem that enhances our core offerings, especially in the IoT domain. We have established strategic partnerships with several companies that complement our services and enable us to deliver more value to our customers. Whether it is automating systems and processes, developing new products and services, or creating new business models, we are always looking for opportunities to collaborate with partners who share our vision and passion.
Moving Forward
As we celebrate our 30th anniversary, we would like to take this opportunity to reflect on our journey and share our vision for the future. Melita Business has been providing innovative and reliable solutions for businesses of all sizes and sectors since 1992. We have grown from a small local provider to a leading national player, serving over 75% of Maltese households. We have invested heavily in our infrastructure, technology, and people, to ensure that we deliver the best service and value to our customers. We have also expanded our portfolio of products and services to meet the evolving needs and challenges of the modern business environment.
Looking ahead, we are committed to continue our growth and development in the areas of IoT and internationalisation, environment, society, and our partner ecosystem. We have ambitious plans to launch new offerings and enter new markets, as well as to enhance our existing services and improve our customer experience.
We would like to thank all our customers for their trust and loyalty over the past 30 years. You are the reason why we do what we do, and your feedback and support are invaluable to us. We look forward to serving you with excellence for many more years to come, and to strengthening our enduring partnership with you. Melita Business is more than just a provider, we are your partner in success.