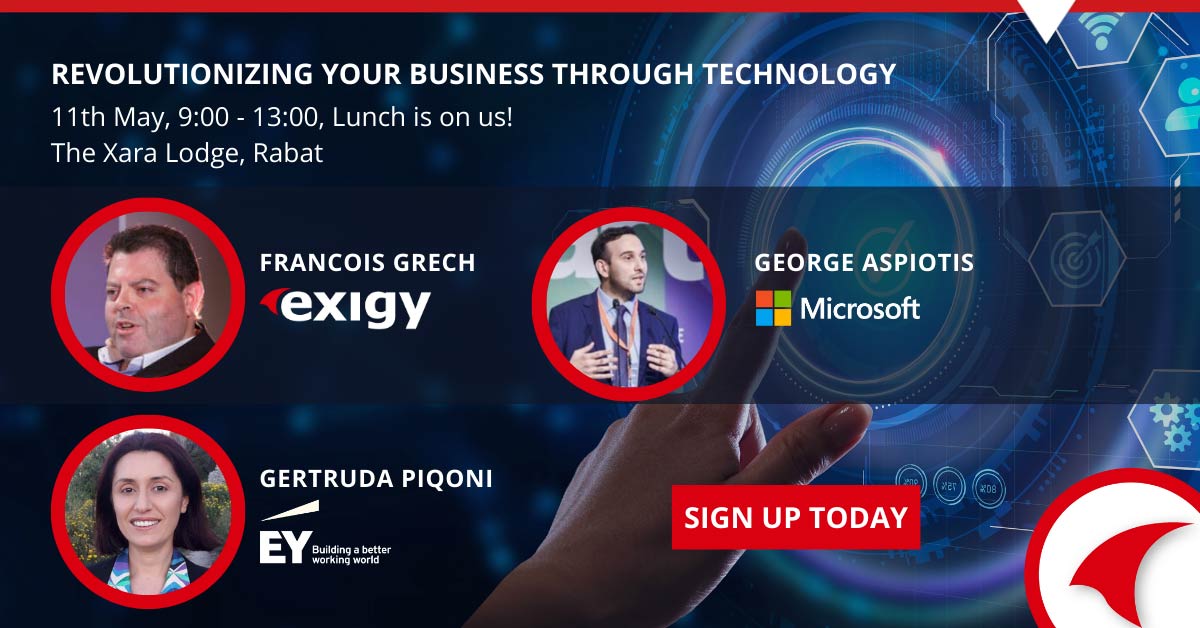 Are you ready to take your business to new heights? We are thrilled to extend an exclusive invitation to an upcoming event that aims to revolutionize your business through cutting-edge technology. Join us at The Xara Lodge on May 11th for an exciting gathering where industry leaders from Exigy and Microsoft will shed light on how advanced technology can unleash the full potential of your business.
Unleashing the Power of Microsoft Dynamics 365:
During this event, we will explore the immense possibilities offered by the Microsoft Dynamics 365 suite. This comprehensive suite covers various aspects of your business, including Marketing, Sales, Field Service, and Finance. With Dynamics 365, you can streamline your business processes, enhance productivity, and elevate your customer experience.
Our Expert Speakers:
To ensure an enriching experience, we have assembled a team of speakers who are industry experts in their respective fields:
Francois Grech, Exigy:
Francois Grech is a tech entrepreneur with a wealth of experience spanning over 20 years in corporate IT strategy, digital transformation, and solution delivery. As the founding partner and Managing Director of Exigy, one of Malta's leading software companies, Francois has successfully led large-scale public and private technology transformation projects across multiple countries, including Malta, the UK, Italy, and Germany.
George Aspiotis, Microsoft:
George Aspiotis brings 9 years of invaluable experience in the technology industry, specialising in business applications. With a deep understanding of the market and a keen eye for identifying customer pain points, George excels in recommending the right products to solve business challenges, with a strong emphasis on automation and process simplification.
Gertruda Piqoni, EY Malta:
As a Manager in Technology Consulting, Gertruda Piqoni possesses over 16 years of experience across diverse industries. Her focus lies in helping clients achieve their strategic objectives and improve business processes. Gertruda excels in providing tailored frameworks, solutions, and technology recommendations to address specific business problems effectively.
Seize the Opportunity:
This event promises a morning packed with ideas that will transform the way you approach your business. By leveraging the latest technology and innovative strategies you will gain a competitive edge and stay ahead of the curve. The event will be an excellent opportunity to learn from industry leaders, network with peers, and stay updated on the latest developments in the award-winning Microsoft Dynamics 365 suite.
Whether you're a business owner, an IT professional, or a decision-maker, this event is a must-attend. By joining us, you will gain valuable insights that will empower you to optimise your business processes, streamline operations, and elevate customer engagement.
Register now to secure your spot and revolutionize your business! https://www.exigy.com/revolutionizing-your-business-d365/ and get ready to revolutionize your business!