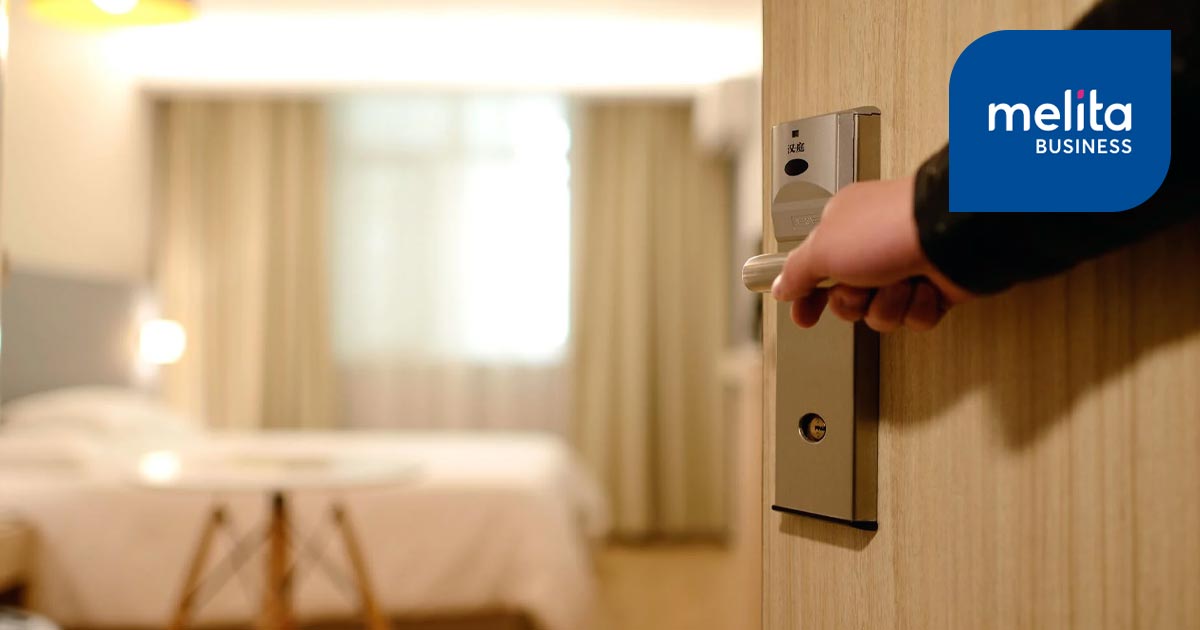 We've previously looked into the value and importance of business internet connectivity for the day to day operation of your business and how it can help speed up workflows and unlock new potential for your company to flourish.
From operating your point of sale system to communicating with employees and suppliers, having a fast internet connection from Melita Business is vital to your company's success.
But what about your customers? They also want to stay connected when visiting your premises.
Whether it is to post a comment on Twitter, send a message to a friend or simply keep themselves up-to-date with the latest news, finding a free WiFi connection is a big bonus for clients and guests.
Should your business provide free WiFi with Melita?
A growing number of businesses in Malta and Gozo have opted to offer free WiFi to their customers for good reason.
It increases customer engagement. In a survey, 62 percent of businesses that offer free WiFi said that customers spent more time in store. Therefore, more time on site often translates to increased customer engagement.
It can boost sales. Half of the businesses surveyed said that customers spent more after they added free WiFi.
It increases customer loyalty. Think of a neighbourhood coffee shop that offers free Wifi. Some customers often cannot go without visiting them for a single day.
WiFi bolsters social media marketing efforts. Free WiFi makes it easy for your customers to 'check in' at your business via social media apps. This is, in turn, boosts marketing and brings more people through the doors.
Whether you run a café, restaurant, holiday rental, bed and breakfast or hotel, you should offer your customers the best possible connectivity. From WiFi hotspots to mesh networks, Melita's WiFi services are a great fit for your business, no matter how big or small.
It's in your best interest to offer a strong and secure connection, which is where Melita Business WiFi comes in. The service even offers a plethora of login options including the ability to create a custom landing page from where you can collect your customers' details and consent to be contacted, which could be a game changer in your marketing efforts further down the line.
Melita Business takes care of the installation, so you don't have to worry about a thing. Our WiFi services are scalable, which means that they'll be able to grow as your business does too.
Add a Melita television package
You can also bundle your WiFi offering with a Melita Sports or Entertainment TV bundle and add yet another potential reason for patrons to want to visit your premises.
Our sports packages are highly regarded for their offerings with eight channels in glorious HD quality, covering everything from Maltese and European football to rugby, tennis, Formula 1, MotoGP, boxing, golf and more.
If you own a guest house, hotel or private hospital, all of the above is still applicable and even more scalable, with Melita Business offering multiroom services for guests who expect in-room connectivity and the best TV room experience possible. Our services even extend to offer multiline telephone solutions.
The television service can be centrally controlled through the use of our best-in-class TV management solution, meanwhile the internet access will guarantee a strong Wifi signal in every room, whilst offering individual guest passwords. What's more, you can tailor landing pages and on-screen messages to welcome guests or offer marketing messages.
When it comes to retail, your connectivity needs take on a whole new factor. When running a multi-site shop, office or branch operation, each of which operates in a distinct location and caters to different clients, things can get a little bit tricky, and the focus shifts towards having faultless connectivity between each of your locations and then once again with smaller networks within each individual location.
In this scenario, the main difference is that the focus shifts to internal communication and day to day operations rather than that of entertaining customers. Melita's Multiline and Cloud PBX solutions become one of the ideal solutions for these companies.
High tech infrastructure guarantees your locations will have access to fast and reliable internet that is connected directly to tier one international carriers through the latest cutting-edge technological infrastructure. Our fibre optic network stretches nationwide and our connectivity is well and truly international.
Our services don't simply stop there. Our Melita Business packages and flexi bundles offer additional perks, such as always having one of our 75,000 nationwide WiFi hotspots nearby thanks to Melita WiFi, or having unlimited calls and SMS on one of our mobile plans.
Fixed line telephony, television, and of course internet, Melita does it all.
If you want your business to get connected and stay connected, get in touch with us via chat, phone, email or visit a Melita branch near you.