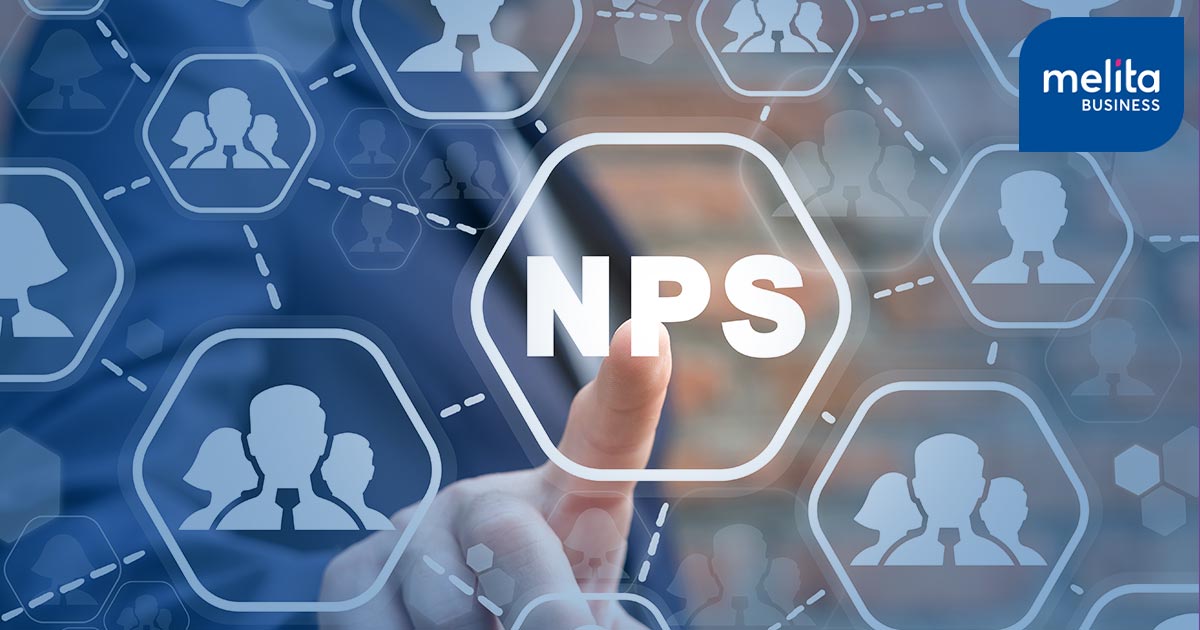 Companies which prioritise customer satisfaction and strive to improve it are more likely to build loyal customer relationships, retain customers, and achieve sustainable business growth. There are various ways of getting feedback on a company's customer satisfaction level, from listening to individual clients, to getting anonymous, aggregated feedback. Melita Business tracks different measures to get continuous client feedback, including Customer Satisfaction, Net Promoter Score and Service Levels.

Customer Satisfaction (CSAT)
Whenever Melita Business clients have contact with Melita Business, they are asked a few short questions for their feedback. One question measures Customer Satisfaction (CSAT) – a widely used metric to assess the level of satisfaction that customers have with their service providers. According to a 2019 report by the European Commission, the average CSAT score for telecoms and internet services in the EU was 6.8 out of 10. Melita Business' CSAT currently stands at around 9 out of 10. This headline score indicates that clients are very satisfied with the level of service they get from Melita Business, much of which we know is driven by getting any issues they have resolved quickly.
Net Promoter Score (NPS)
The Net Promoter Score (NPS) is a metric used to measure customer satisfaction and loyalty across many industries. It is based on the response to a single question: "How likely are you to recommend this company to a friend or colleague?" The response is measured on a scale of 0 to 10, with 0 being "Not at all likely" and 10 being "Extremely likely."


NPS is measured on a scale of -100 to +100, with higher scores indicating higher levels of customer satisfaction, and a score of 0 indicating an equal number of promoters (customers who respond with a 9 or 10) and detractors (customers who respond with a 0 to 6).
Making NPS a key performance indicator (KPI) and incorporating it into employee goals and incentives, is just one element that has helped Melita Business foster a culture that prioritises customers. This has helped Melita Business improve customer loyalty by keeping the feedback and communication lines open with its customers. Alongside the numerical score, the open-ended feedback provided by customers is extremely valuable for identifying areas of improvement and identifying actionable insights.
Transactional Net Promoter Score (tNPS)
Besides NPS, Melita Business also measures its Transactional Net Promoter Score (tNPS). tNPS asks customers about a particular transaction, for example a visit by an installer or a telephone enquiry. This includes rating the service received, and asking for feedback on what a customer thinks went particularly well, or what they think may be improved.

From the beginning of 2023, the tNPS for Melita Business has consistently been over 60; a tNPS this high means that Melita Business has many more promoters than detractors, with the majority of customers are satisfied and likely to recommend the company.
Call Centre Service Level
Melita Business has a dedicated business call centre with a number of key performance metrics (KPIs) one of which is the service level. This KPI measures the percentage of incoming calls answered in under 60 seconds – used to assess the responsiveness and efficiency of a call centre in handling customer calls. Currently, the Melita Business call centre service level stands at 75%, meaning that 75% of calls are answered within less than 60 seconds.
How satisfied are Melita Business customers – our customer feedback indicates the answer is 'very satisfied'!