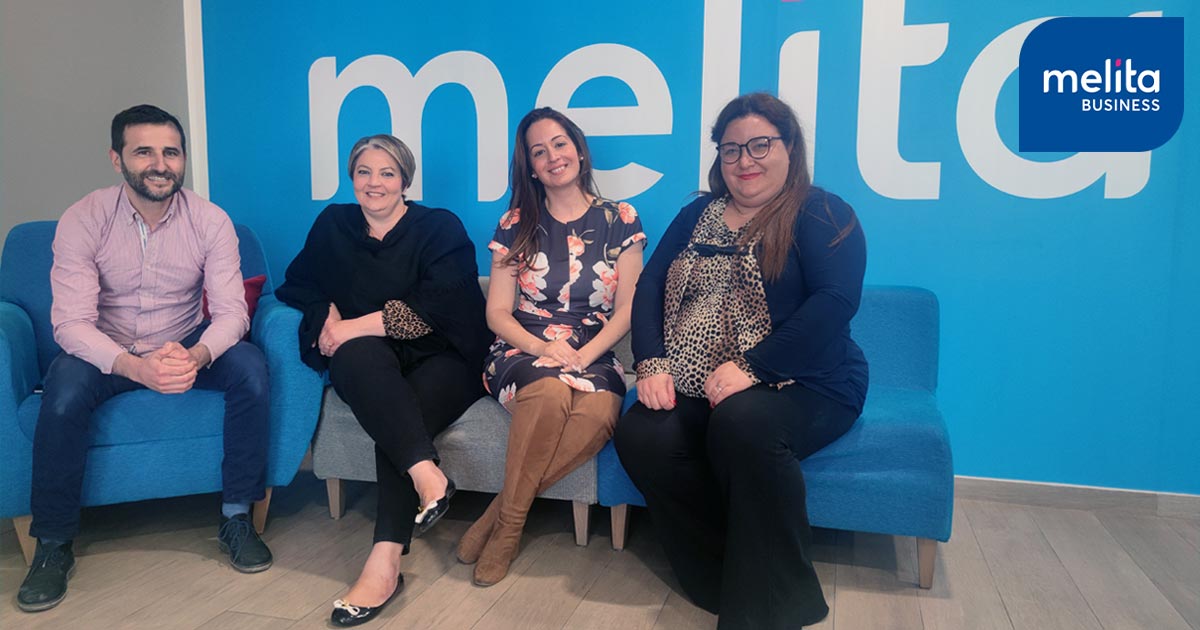 Traditionally, and in most industries, Key Account Managers (KAMs) were responsible for managing and handling important high-value accounts but, at Melita Business, we consider our business clients key clients and that is why business products come with a Key Account Manager. Our KAMs' role is to act as a main point of contact for their business clients and to provide personalised and timely service, any time, all the time. However, there's a twist that makes our KAMs different.
The service level that a business client can expect from any one of Melita's Key Account Managers is not that of a service provider but that of a dedicated business partner. We are very much aware that consistently delivering on such a promise requires KAMs that are naturally skilled in relationship building and highly trained to deliver value; the Melita Business team has been steadily achieving this not only by investing heavily in the training and development of its KAMs but also by having KAMs focus on one assigned market segment. This means that our KAMs can apply all their efforts and focus on one industry which makes them extremely knowledgeable and very experienced specialists in that area.
We have four main industries areas on which our KAMs are focused:
Rebecca Casha is responsible for the sector related to the knowledge and information industries such as technology, research and development, education, and finance.
"In my role at Melita Business, my responsibility is to support the needs of clients within my area of specialisation. By keeping myself up to date and in touch with the industry's developments, its advances, and its realities, and by maintaining healthy relationships with my clients, I ensure that we consistently deliver superior customer service and the best product solutions to meet the industry's specific needs."
Rachel Buhagiar Vassallo is responsible for the Government sector and primary and secondary industries such as manufacturing, construction, taxi services, and agriculture. The Government Sector encompasses various levels of government including local, regional, and national agencies and departments.
"As a Key Accounts Manager, I've gained a good grasp and understanding of the different scenarios and business requirements of these industries. By using my cross-client experiences I aim at being a valuable and strategic partner to my clients. I strive to deliver immediate and effective assistance wherever required and to nurture customer relationships with optimum service. My training and previous experience in business sales, customer service and key account management, allow me to offer strong, professional, and holistic support."
Chanel Pace is responsible for PoS customers, an industry that involves businesses related to the sale of goods and services to customers at the final point of purchase, such as retail, hospitality, and restaurants.
"I'm very aware that the Point-of-Sale industry often relies heavily on telecommunication services to ensure smooth and efficient operations. I am therefore extremely focused and motivated to make sure that the clients I'm responsible for are always provided with the best and quickest possible service. By putting client needs at the forefront of my priorities I solidify our professional relationship and ensure consistent customer satisfaction."
Anatole Debono, Business Manager – Key Accounts, is responsible for the Business Administration Team and all the Key Account Managers. His role is to ensure the seamless process flows and resolution of queries in a timely manner by meeting the service level agreements of each process.
"Having a solid and in-depth knowledge of all of Melita's Business products is essential to my role. This is what makes it possible to offer business clients the best solutions possible that meet their business needs. Primarily I aim to deliver optimum service to our existing client base by promptly and accurately responding to inquiries on complex and multiple problems and providing "best-in-class" customer service. I also, work hand in hand with the Business Customer Experience Team to ensure that our key accounts experience is superior to every other player in the telecommunications industry."
The strategy that Melita Business embarked on is constantly proving that Key Account Managers focused on a particular industry, accumulate priceless experience when working with different clients in similar industries. This brings significant added value to business customers, as a KAM's expertise in understanding the specific needs, challenges, and trends of the industry allows them to provide prompt strategic consultation and accurate responses to customer inquiries on multifaceted issues related to telecommunications services.