The world of business communication is changing rapidly. Cloud telephony is at the forefront of this transformation. As modern businesses continue to seek innovative ways to streamline their operations and provide exceptional customer service, cloud telephony is emerging as a cost-effective and efficient alternative to traditional phone systems. Exploring the world of cloud telephony, we will take a look at how Cloud Telephony is changing the way that modern businesses communicate.
The Limitations of Traditional PBX Telephony Systems
For years, traditional PBX telephony systems have dominated the business communication space. But as technology progresses and businesses adapt, these systems are increasingly revealing their shortcomings. A few notable challenges with traditional telephony systems include:
Limited scalability: Expanding these systems can be challenging, costly, and time-consuming due to the need for physical infrastructure and hardware.
High maintenance costs: Most brands of PBXs require very specific technical knowledge to maintain and upkeep
Lack of flexibility: These systems often requiring on-site access to manage.
Limited integration options: Legacy mutli-line systems don't easily integrate with other essential business tools, like CRM systems or cloud collaboration platforms, hindering efficiency.
Dependence on physical location: Managing separate lines and systems for each office or branch complicates networking and increases complexity.
In response to these challenges, businesses are turning to more efficient and cost-effective alternatives like cloud telephony, which addresses many of these drawbacks while offering a modern, flexible telephony solution for business communication.
What is Cloud PBX?
Cloud PBX solutions, sometimes called hosted telephony or virtual PBX, is a game-changer for businesses. It lets companies make and receive calls through a robust and fully managed virtual PBX solution thereby getting rid of a physical PBX as traditionally installed in the office. Through such solutions, businesses can either connect their office desk phones network with the Cloud PBX or availing of calling via a web browser or mobile app.
Benefits of cloud PBX solutions for businesses
Cloud telephony is a game-changer for businesses, revolutionizing communication with a suite of impressive advantages. Let's dive deeper into the perks of this innovative technology:
Effortless setup: Time to ditch the complicated installations! Cloud PBX is simple to set up, sparing you the headaches and helping your team hit the ground running.
Enhanced mobility: Employees on the move? No problem! Cloud PBX keeps your team connected, ensuring seamless communication, whether they're in the office, at home, or across the globe.
Superior reliability: With cloud PBX, dropped calls and downtime become a distant memory.
Collaboration boost: Cloud PBX integrates with collaboration tools, streamlining teamwork and driving productivity to new heights.
Customizable call handling: Craft the ultimate caller experience with personalized greetings, call routing, and hold music that reflects your brand's unique identity.
Data-driven insights: Unlock powerful analytics to optimize your communication strategy. Cloud PBX empowers you to track key metrics and make informed decisions, all with just a few clicks.
Eco-friendly choice: By embracing cloud PBX, you're not only optimizing communication but also reducing your carbon footprint. Less hardware means fewer resources, contributing to a greener planet.
Secure and compliant: Rest easy knowing your cloud PBX solution adheres to industry-standard security protocols, safeguarding your data and ensuring privacy.
In a nutshell, cloud PBX supercharges business communication, offering unparalleled cost savings, flexibility, and scalability. By integrating this cutting-edge technology, businesses can stay ahead of the competition, streamline operations, and foster a more connected, efficient, and productive work environment. So, why wait? Make the switch to cloud telephony today and watch your business thrive!
How Cloud PBX can improve customer experience
Cloud PBX is a game-changer for customer service. With smart call routing, rapid response times, and tailored interactions, your customers will feel like VIPs. Plus, automated attendants, call recording, and analytics help you keep raising the bar on your communication game.
Cloud PBX and remote work
As remote work skyrockets, businesses need communication tools that keep up. Cloud telephony fits the bill, offering unbeatable benefits for a connected, collaborative workforce:
Work from anywhere: Access phone lines, voicemail, and more, no matter where you are. Your team stays in sync, even when miles apart.
Easy-peasy setup: Getting started is a cinch, with minimal tech know-how needed. Use your trusty devices like smartphones, tablets, or laptops to jump right in.
Collaborate like a boss: Conference calls and call forwarding bring your remote team together for smooth, effective collaboration.
Upgrade to cloud telephony and embrace the future of communication and collaboration for remote work. Your customers and employees will thank you!
Choosing the Right Cloud PBX Solution
Selecting a suitable cloud PBX solution is vital for businesses aiming to optimize their communication infrastructure. Consider these factors when evaluating different options:
Pricing: Compare pricing plans to find a solution that fits your budget and needs. Seek transparent pricing without hidden fees and a flexible pay-as-you-grow model.
Scalability: Choose a provider that can accommodate your business's changing needs, allowing you to add or remove phone lines, extensions, and features as needed.
Integration options: Ensure the solution integrates easily with your existing business tools, streamlining workflows and improving efficiency.
Reliability and call quality: Research the provider's reputation for call quality and service uptime. Consider reaching out to existing customers for feedback.
Security and compliance: Select a provider that prioritizes security and adheres to industry-standard data protection and privacy regulations.
Customer support and service: Look for providers with a strong reputation for responsive and knowledgeable customer service.
Melita Business Cloud PBX: A Comprehensive Solution
Melita Business's MultiLine Telephony SIP is an excellent choice for a robust and reliable cloud telephony solution, offering several advantages:
Competitive pricing: Melita Business offers transparent and cost-effective pricing plans for businesses of all sizes.
Local solution: Whether you're a small business with one local number that may require port-in, or a larger business who requires a Direct-Dail-In functionality with Melita Business' Cloud PBX you're covered.
Easy scalability: Melita Business can provide power over ethernet (PoE) desk phones that can easily integrate with your office network. Alternatively, Melita Business can easily design and build the network for you by availing of superior hardware.
High-quality calls and reliability: Melita Business is known for superior call quality and service uptime. This is achieved by setting up a dedicated VPN between your office and Melita so that voice quality is delivered with a guaranteed quality of service (QoS).
Dedicated customer support: Melita Business provides top-notch customer support for any issues or questions.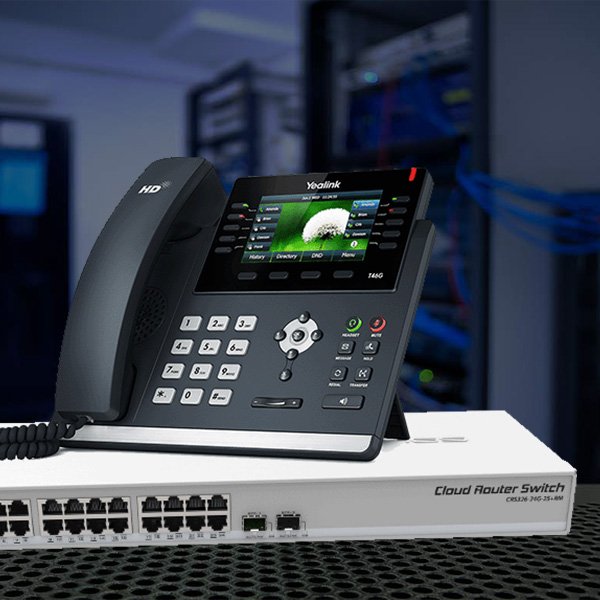 Taking these factors into account and thoroughly examining Melita Business's cloud telephony options will enable you to make an informed decision on the ideal solution for your business communication needs. By selecting the right cloud PBX system, your company can stay ahead of the curve in the rapidly evolving, technology-driven business environment and experience improved communication, efficiency, and productivity.
The bottom line
Cloud PBX is transforming the landscape of business communication by providing cost-effective, flexible, and scalable alternatives to traditional telephony systems. By embracing cloud telephony, businesses can optimize their communication processes, deliver outstanding customer experiences, and stay ahead in the fast-paced, technology-driven world.