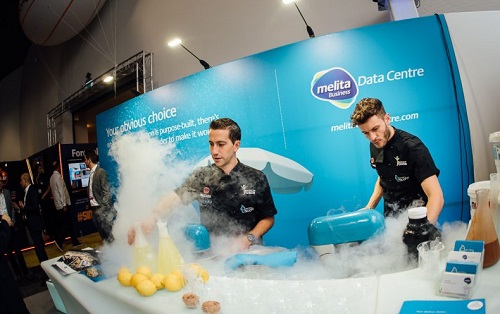 Melita Data Centre recently took part in the third edition of SiGMA. This year's edition broke all records. While the organisers anticipated close to 3,000 attendees, the final numbers edged closer to 4,000, doubling last year's turnout.
Activity was buzzing all throughout on the Melita Data Centre stand with artificial "snow" falling on the exhibition area keeping in with the theme "Your obvious choice: When your chosen solution is purpose-built, there's no need to get snowed under." Ice cream baristas provided quite a show with their tasty liquid nitrogen ice creams of various flavour. Hundreds of visitors flocked to the stand for a scoop of instantly frozen deliciousness!
Fancy give-aways aside, various operators be they, new or established, system integrators, consultants, and other service providers had the opportunity to meet the technical sales staff of Melita Data Centre with some also getting private visit of the facility during the exhibition days.
Melita Data Centre is Malta's only purpose-built data centre facility. Built to Tier III specifications and covering a total fully-fenced footprint of 10,000 m2, the facility is also the largest and most unique of its kind in Malta.